Core training doesn't just mean training your abs 😉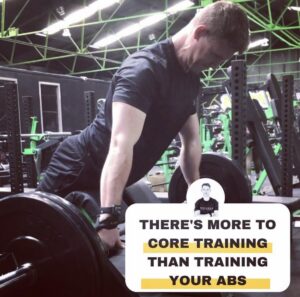 When you hear the word core you probably thinking of chiseled abs, but your core is made up of many more important muscles. In fact your core is made up of numerous types of muscles all working together, including
✅Traps
✅Lats
✅Rectus Abdominals
✅Obliques
✅Diaphragm
In addition to being aesthetically pleasing, a well-developed core also provides essential spinal stability and can contribute to good posture. Both spine stability and good posture will help minimise back pain and reduce the risk of injury.
In this example, I am performing a weighted hyperextension, which not only hits the overlooked muscles when developing a strong core, but it works all the muscles in the often neglected posterior chain, contribute to a physique that is
✅strong
✅robust
✅athletic
Next time you want to 'work your core' think about not just doing 100's of sit ups, but performing exercises that involve the other core muscles.