Are you feeling Monday guilt from cheating on the weekend?
Don't
EATING CLEAN ALL THE TIME DOES NOT GIVE YOU FASTER PROGRESS AND MORE FAT LOSS, INSTEAD IT'S MORE LIKELY TO STALL YOUR FAT LOSS PROGRESS AND MAKE YOU GAIN WEIGHT IN THE LONG TERM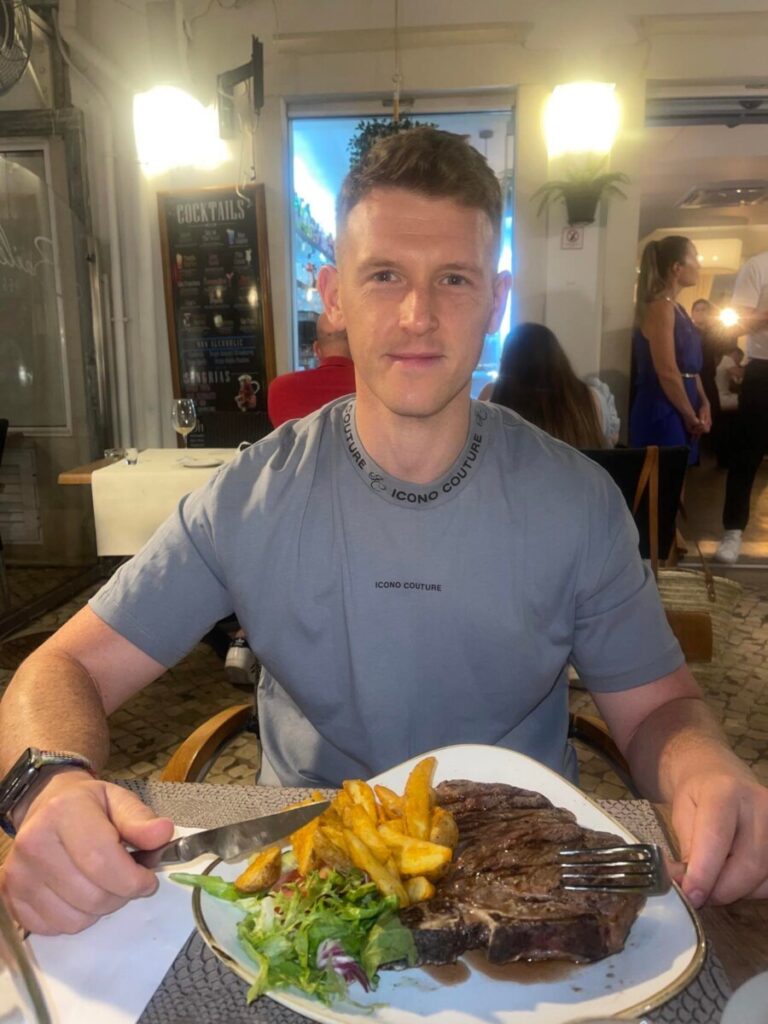 It's quite common for people I work with to raise a concern in our group or 1:1 calls that they feel they've let themselves down by indulging a bit on the weekend.
This can be an ice cream with their kids or a full blown pizza session
Interestingly it's always what they class as 'bad' food that's the root of the problem
Conversely, I've never had a client come to me worried that they've eaten 4 avocados in a day, despite this being a significant calorie load  of around 1000kcals.  I'll come back to this later.
EATING CLEAN IS SUBJECTIVE BUT FROM MY COACHING EXPERIENCE I CAN PROBABLY GUESS THAT YOUR CLASSIFICATION OF 'CLEAN' INCLUDES MOST OF THESE
• Fruit
• Veg
• Lean Meats (unless you're a veggie/vegan)
• Unprocessed foods
• Wholegrain carbs (unless you're a keto)
• Nuts
AND AT A ROUGH GUESS YOUR DEFINITION OF 'BAD' OR 'UNCLEAN' FOODS HAS A FEW OF THESE
• Processed carbs – bagel/white bread/pancakes
• Processed meats – sausages, burgers, luncheon meat
• Refined carbs or sugars – sweets, pick and mix,
• Anything from a bakery which is sweet
• Anything delivered by Just Eat/Uber eats
• Anything from a takeaway
• Most meals in restaurants
Can you see a pattern here?
Although the clean foods can taste nice they aren't really in the same boat as the unclean foods.
Also the clean foods apart from the stuff you can just pick up and eat, normally needs a bit of prep which makes them more labour intensive to eat.
THE ONE THING THAT IS COMMON ACROSS ALL THESE FOODS THOUGH IS THEY ALL CONTAIN CALORIES
While the clean foods may contain more macro/micronutrients, vitamins and minerals, they can also be as calorific as the unclean 'cheat' foods.
• When people I work with raise this topic of 100% clean eating with me then we always look at their data.
• I would say 99% of the time they have nothing to worry about from having those indulgences on the weekend.
• In fact, I would go even further and say that by having those bits of junk, they've made it easier for themselves to continue making progress.
• I'd also stake a big wager that if they had indeed eaten 'clean' through the whole weekend they are more likely to set themselves up for a binge in the future
And here's why
UNLESS YOU REALLY LIKE EATING CLEAN ALL THE TIME AND REALLY DON'T LIKE 'JUNK' FOOD THEN PLACING A RESTRICTION ON YOUR EATING PATTERNS JUST BECAUSE A FOOD IS 'BAD' IS GOING TO MAKE YOU WANT THAT FOOD MORE.
From my own personal perspective, I eat 'clean' around 70-80% of the time.
• Most of my meals are home prepped with fresh ingredients
• I use low fat cooking sauces with things like chilli and curries
• I eat a lot of fresh fruit and yoghurt
• I add a fair bit of green leafy veg to my meals.
However I like Pringles and I like a Disoronno at the weekend.
So I limit my consumption of those foods to those activities. I also like a Cornetto, again I limit my eating of them to the evening.
This way I eat 'healthy' the majority of the time and only really eat 'junk' during the hour or 2 that I'm relaxing in front of the TV, if at all.
On the weekends I normally eat out on one or both days depending on my schedule, but I'll eat less meals overall.
I don't track anymore but when I did track I know this system keeps me inside my maintenance calories on average.
More importantly it allows me to have the freedom to decide if I want to have those 'cheat' meals or not.  
For instance this past weekend we decided not to have a Nandos as we weren't really that hungry and came home for a smaller meal that I'd pre prepped the day before.  
I know I can go to Nandos at any time, it's not limited to the weekend.
CONTRAST THAT WITH MY BODYBUILDING PREP DAYS WHERE THE ONLY DAY I WAS ALLOWED A 'CHEAT' WAS SATURDAY SO I MADE SURE I CRAMMED IN AS MUCH CRAP AS I COULD TO TOP ME UP FOR THE NEXT 6 DAYS BEFORE MY NEXT CHEAT DAY.
Following that method I know I overate massively on the weekend, I still got in shape because of my massive deficit and overdoing of cardio in the week but I felt awful for 6 days of the week.
WHEN I COACH PEOPLE NOW WE AIM FOR THE 80/20 RULE (CLEAN/JUNK) FOR THE MAJORITY OF THE WEEK AND A 60/40 RULE FOR THE WEEKEND.
BUT
That's only to help them balance it in their head
If they ate 100% junk on a Saturday and ate over their calories this wouldn't be much of an issue as one day's eating matters very little when compared to the, say 14 days previous where they've been pretty much on track.
1) FACT 1: I've NEVER had a client say they've eaten 100% junk for the weekend, even when they've had a fair bit they still like to eat some of their normal everyday stuff.
2) FACT 2: When a client does really go to town on a weekend and nails that All You Can Eat award they normally aren't that hungry the next day as part of their bodies adjustments (called the Lipostat, will discuss another time)
I actively encourage everyone I work with to have some form of 'junk' in their nutrition plan
This keeps them grounded in a 'normal' routine of eating rather than 'dieting' because if you get into shape eating clean all the time when you actually prefer some junk, what are you going to do when you go off the diet?
Learn the systems that support your lifestyle and tastes, not ones that put you in a false reality to achieve a body that you can't maintain.