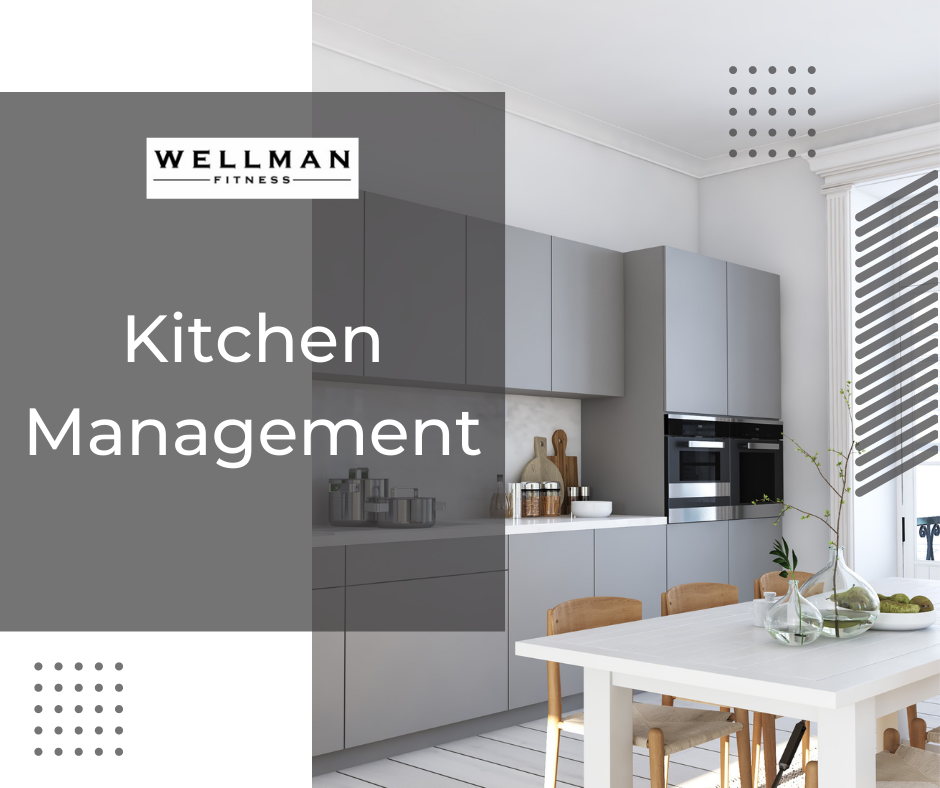 It might sound obvious but getting yourself sorted and organised in your kitchen can help make cooking meals much easier and a lot less time consuming. This doesn't mean you have to buy loads of expensive kit for your kitchen, just having the basics will do. In fact, keeping things simple is the best and easiest thing to do when planning out your meals for the week; we are more likely to stick to eating well when it's a simple rather than a complicated task, especially when most of us struggle for time.
Getting your kitchen sorted may also see you saying goodbye to certain habits, for example, if your kitchen doesn't contain crisps, biscuits and other sweet treats then you're less likely to reach for them mid-afternoon when most people have a slump.
So, there are a few things to consider here:
What kitchen equipment do you have and what do you need to prepare meals simply and fast?
What food and drinks are you stocking your kitchen?
What foods/meals can you buy/make in bulk and how can you store them to make life easier for yourself?
How do you fully utilise your freezer if you have one?
What items do you have in your kitchen which are just clogging space? Sometimes keeping our possessions minimal helps to avoid feeling overwhelmed.
How to makeover your kitchen
As a starting point, what bits of kit do you have in your kitchen and what do you need? This will vary from person to person but some of the essentials you might consider are:
Tupperware, ideally tupperware with glass bases rather than plastic. There are also bamboo alternatives on the market. Chemicals in plastic are thought to leach into food stored in plastics hence why a glass based container is a better option. You could also use ceramic bowls and cover them with reusable lids or even a small ceramic plate.
A good knife set – this will help you chop with ease.
A good set of pans. If you're cooking for one or two then some smaller pans are useful too to make sure you're not over doing portion sizes.
A blender – these are so useful for smoothies, dips, soups and some dressings for example.
Some jars like glass kilner jars; these are great for storing stuff you make in big batches.
A reusable water bottle to carry with you at all times.
On the point of making certain foods in batches, try investing a little time to make a few store cupboard items or freezer items, these are your daily go-to's and save you a lot of time preparing meals each day. A few suggestions are as follows:
Granola and muesli – find a recipe you love and make up a big batch of it to store in a kilner jar so each day you can just put a sprinkle over some yoghurt, make into an overnight bircher or have it with berries; this will cut down your time significantly in the mornings.
Make your own seed mix – blend together pumpkin, sunflower, flaxseeds, hemp seeds and chia seeds and use it as a topping for your breakfasts or salads.
Home made flapjacks or rusks as snacks are a great go to if you're having an afternoon dip.
Make dips that you can use for a few days in lunch boxes or accompaniments for meal times e.g. hummus, red kidney bean dip, lentil hummus, tzatziki.
Make batches of sauces e.g. a coconut based curry sauce, a tomato sauce, home made pesto as these will save you time if you need to put together a quick meal.
Any meals you can make as a big batch – soups, stews, bolognaise, curries, these all make excellent meals to store in your freezer. Just make sure that when you freeze them, you portion them up first.
Apple sauce – these are basically apples washed and chopped into small pieces then cooked in some water until they're soft. Cool them, add a little cinnamon and blend them. Store a small batch in the fridge and some in the freezer in cubes (like the silicon moulds you can use for baby food!). Take out a cube from the freezer the night before you need it and add it into smoothies, use it on yoghurt, in bircher muesli or eat as a dessert, it's super versatile and excellent for your digestive system.
If you're chopping up some vegetables, chop some extra and store them in the fridge so you can easily grab them in you're in need of a snack.
You can also chop up some of your favourite veg to store in the freezer so they're already prepped to cut down on cooking preparation time.
And finally, the key is that if it's not in the house then you're less likely to have it! If you're having a cheat day, then you go to the shops and only buy what you need for that day so you don't have any distractions sitting in your cupboards!